ACCIONA.ORG IN MEXICO
In Mexico, acciona.org operates through ACCIONA Microenergia Mexico, a Mexican nonprofit civil association established in April 2012, with the acciona.org Foundation as a reference partner.
Its objective is to provide access to modern energy, safe water and other basic infrastructures, to low-income people living in communities where there are no prospects of having those services with traditional means (distribution networks).
It develops its activity acting as if it was a public utility to preserve the project sustainability.
Our figures (2019-E)
3
OPERATION SETTINGS: OAXACA, CHIAPAS AND NUEVO LEON
533
INDIGENOUS AND RURAL COMMUNITIES ATTENDED
Latest news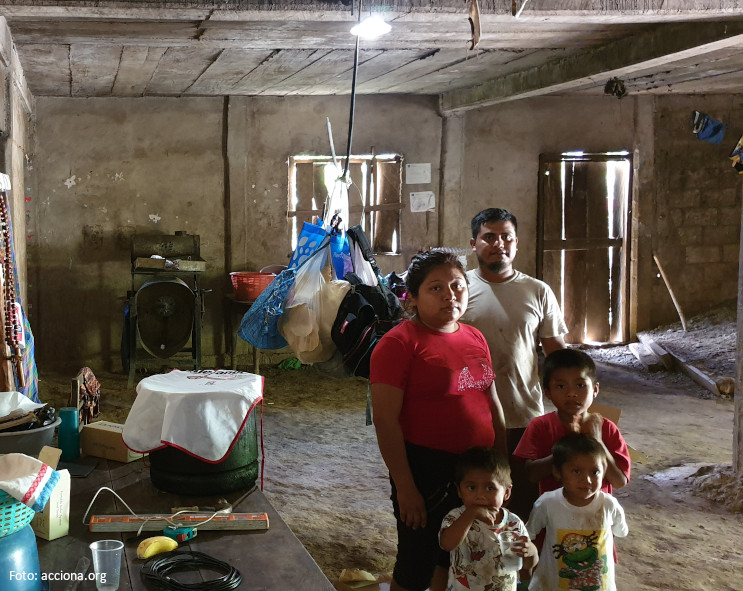 1,000 households have access to the EncASa Oaxaca electricity basic service
03/11/2020
Mexico
The EncASa Oaxaca 2018 project achieved its goal of 1,000 families having access to the electricity basic service, together with about 140 households participating in the water, sanitation and cook stoves pilot, which is going to end soon. We carry out this initiative within a public-private partnership for development with the Government of the State of Oaxaca, AECID –the Spanish Agency for International Development Cooperation– and its Mexican counterpart AMEXCID.
Annual report
THE RESULTS OF OUR ACTIVITY CONTRIBUTE TO THE SUSTAINABLE DEVELOPMENT GOALS (SDG'S) OF THE UN 2030 AGENDA
Yearly our projects increase their positive impact on the benefited population, favouring principally the achievement of SDG6, for its targets of universal access to water and sanitation, and SDG7, for its target of universal access to energy, as well as SDG9 in promoting the innovation.

 

(Reports only available in Spanish version)

;