"WE TAKE A STEP FORWARD BY OFFERING INTEGRAL ACCESS TO BASIC SERVICES OF ELECTRICITY, COOKING, DRINKING WATER & APPROPRIATE SANITATION"
Within a Public-Private Partnership with the Government of the State of Oaxaca and the Spanish and Mexican Agencies for International Development Cooperation (AECID and AMEXCID), with the EncASa Oaxaca programme we plan to improve the quality of life of Oaxaca households in poverty and extreme poverty of rural communities with population less than 500, through their access to basic services.
With this aim we signed a Framework Agreement to collaborate with the Government of the State of Oaxaca, through its Infrastructure and Sustainable Territory Development Secretary (SINFRA). Because, despite between 2012 y 2016 different electrification projects reduced significantly the number of population without electricity in Oaxaca -such as the 30,000 users of Luz en Casa Oaxaca-, it is estimated that thousands of households have no access to that service, as well as to safe cookstoves, drinking water and sanitation.
13
MICRO REGIONS OF PREFERENCE OPERATION
3.1%
OAXACA HOUSEHOLDS WITHOUT ELECTRICITY
ACCESS TO OTHER BASIC SERVICES IN OAXACA (INEGI, 2015)
HOUSEHOLDS WITH COOKSTOVES WITHOUT CHIMNEY
HOUSEHOLDS WITHOUT DRINKING WATER
HOUSEHOLDS WITHOUT SANITATION
KEY ASPECTS OF ENCASA OAXACA
We start by developing EncASa Oaxaca 2018 project, in a new partnership with the Government of Oaxaca through SINFRA, and the Spanish and Mexican Cooperation Agencies (AECID and AMEXCID).
Its aim is to bring electricity to 1,000 households with third generation solar home systems.
In addition, we are executing a pilot to assess the feasibility of different options to provide quality drinking water, appropriate sanitation and improved cookstoves, to 50-100 families.
This action is started due to the lack of service that is prevalent in small rural communities.
Their high population dispersion and bad communications infrastructures makes really complicated the traditional supply to those communities.
That lack of access to basic services ends in different problems that make difficult the population development, such as those related to health or education.
Latest news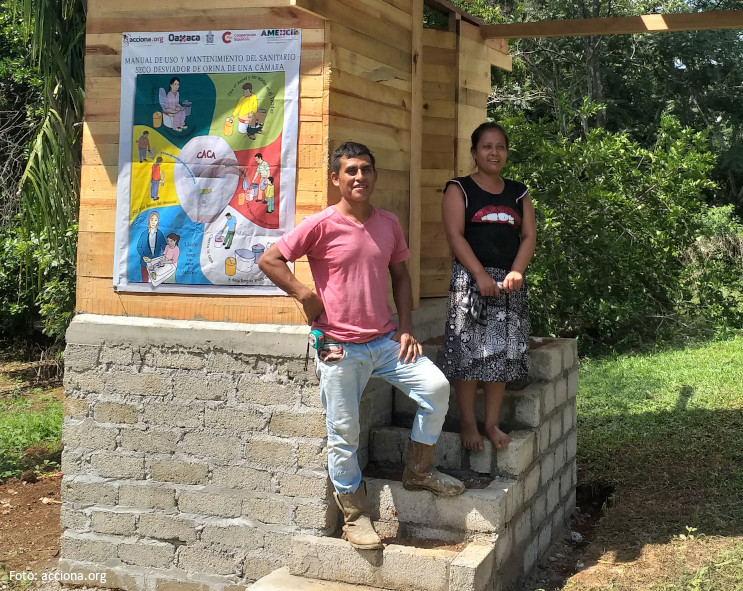 Access to drinking water and appropriate sanitation for more than 100 households in Oaxaca
11/19/2019
EncASa Oaxaca
The EncASa Oaxaca 2018 project started with the goal of both providing 1,000 households with access to a basic electricity service and implementing a pilot to bring access to drinking water, appropriate sanitation and improved cook stoves to more than 50 households. Today, the distribution of solar home systems to provide access to electricity is advancing and there are almost 140 households participating in the pilot implemented in 5 Oaxaca communities.