ACCIONA.ORG AREA OF ENERGY
acciona.org provides access to clean and safe basic services of electricity and cooking in developing communities. We provide third generation solar home systems and improved cookstoves, that are affordable to the users. 
The activities in our Area of Energy favour the achievment of the 2030 Agenda's Sustainable Development Goal nº 7 "Ensure access to affordable, reliable, sustainable and modern energy for all", especially to its target: ensure universal access to affordable, reliable and modern energy services.
The impact of our work in access to energy on the beneficiaries also favours the achievement of those global goals related to reduction of poverty, diseases and unequalities, or to promotion of education, work, sustainable production...
Today we are working in seven energy projects -at different execution phases-, in Peru, Mexico, Panama and Etiophia.
OUR FIGURES (2020)
15,106
households with access to electricity
56
Households with access to improved cookstoves
SOME RELEVANT FIGURES OF ELECTRIFICATION (2020)
5,218
T/YEAR CO2 EMISSIONS AVOIDED
LATEST NEWS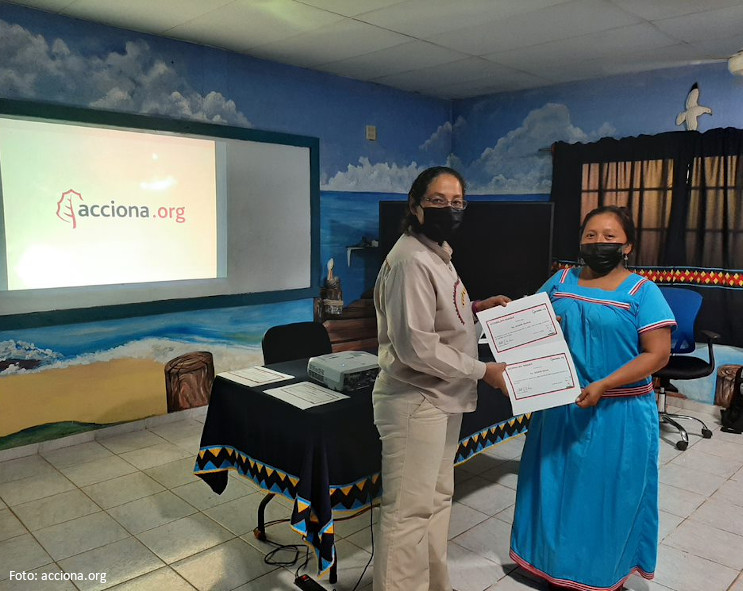 We held the first workshop with Luz en Casa Ngäbe-Buglé entrepreneurs
06/04/2021
energy
We held a training workshop with the Centro Luz en Casa entrepreneurs in the Ngäbe-Buglé indigenous region in Panama. The entrepreneurs responsible of the four centres currently in operation participated in this training session in Nuestra Señora del Camino foundation, at San Felix, in Chiriquí province.
ACCESS TO ENERGY. CURRENT SITUATION IN THE WORLD (ENERGYACCESS.ORG, WHO)
POPULATION WITHOUT ACCESS TO ELECTRICITY
POPULATION WITH INTERMITTENT ACCESS TO ELECTRICITY
POPULATION COOKING WITH FIREWOOD, COAL, MANURE...
MAIN COUNTRIES WHERE WE BRING ACCESS TO ENERGY, WATER & SANITATION