"WE OFFER A SUSTAINABLE SOLUTION TO BRING ELECTRICITY TO THE LARGEST RAINFOREST OF THE PLANET"
Since 2017 we bring Luz en Casa to the Peruvian Amazonia, for which we developed a new electricity delivery model to implement with an ambitious programme to deploy progressively. We started in the Napo river basin, by executing a pilot project to validate the technology and management model proposed, which gave results of high satisfaction of the users with the offered service and verifying, thus, the validity of the proposal. 
Then, we began the escalation of the programme along the Napo and, once it ends, we will have a basin model to replicate in other Peruvian rivers, counting on the collaboration of other organizations working in the Amazonia. By this way, we will extend a clean solution of electrification for rural, indigenous remote communities, as well as we have made possible minimizing the use of fossil fuels, candles, oil lamps or batteries for torches, radios, etc., which is impacting positively in their health, economy, education...
344,530 h/year

For additional activities at home

42,200 h/year

For doing additional homework

58,500 soles/year

Savings in energy expenditure (15,000€/year)

2.20 t/year battery

non-controlled disposal avoided

43 t/year CO2

emissions avoided
411
HOUSEHOLDS WITH ELECTRICITY SERVICE
900,000
H/YEAR AVAILABLE LIGHTING
Watch video
CONTEXT AND BEGINNINGS OF LUZ EN CASA AMAZONIA
The access to electricity for all in the Amazonian communities is not feasible by conventional means.
These communities are settled in remote locations with exclusively fluvial access, extreme weather & rain conditions, and several social conflicts.
The grid extension to those settlements implies high investment, operation & maintenance costs. In addition, it impacts negatively in the environment.
Within this setting, we proposed an innovative electricity delivery model with renewable energy and technical-economic sustainability and affordability criteria.
We conceived a pilot project to validate the technology -third generation solar home systems- and the management model -electricity service in return of an affordable fee to pay through an integrated Pay-as-you-go (PAYG) system-.
This service is given supported on Centros Luz en Casa located strategically in the operation area.
The place selected to start this project was Peru, where we execute Luz en Casa since 2009, and specifically the Napo river basin, where we can develop synergies with other entities working in that area.
LUZ EN CASA AMAZONIA PROJECTS
61 families in four communities of the Napo district got access, for the first time, to clean and safe electricity with third generation solar home systems. In the survey developed some months after de installation of the systems, the users showed their satisfaction with the electricity service offered.
With this first phase of escalation of Luz en Casa Amazonia, 350 additional families have access to the electricity service with third generation solar home systems including prepayment (PAYG), in almost 20 localities of the Napo and Mazan districts.
This project represents to end the escalation of the electricity service delivery model for Amazonian communities by the Napo, and it starts the replication by other basins in the department of Loreto. At least 1,000 additional households will be benefited.
100%
USERS RECOMMEND THE SERVICE
88%
USERS THINK PAYG IS EASY TO USE
Ver vídeo
Latest news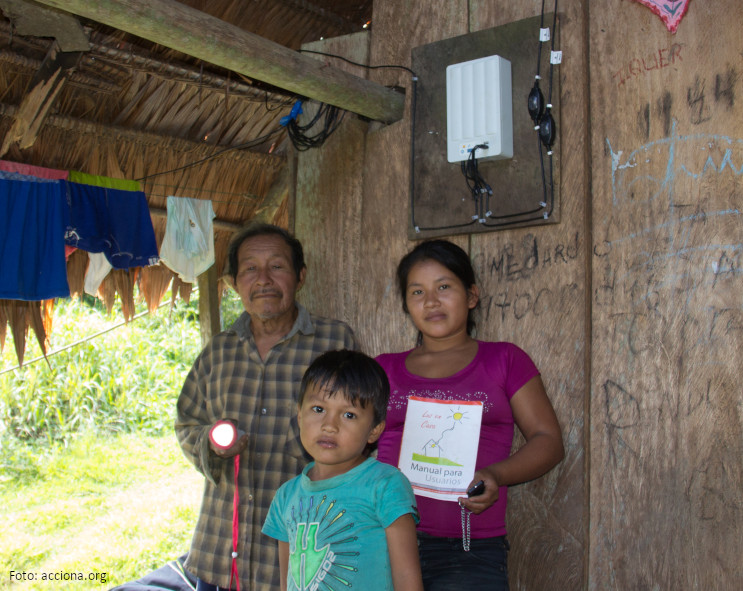 Luz en Casa Amazonia reaches more rivers in Loreto
08/12/2019
Luz en Casa Amazonia
The Luz en Casa Amazonia programme continues progressing in the Peruvian department of Loreto; up today, 411 households have had access to a basic electricity service in the Napo riverside communities. To end the escalation of the action by that river, and to start the replication by other basins, we are developing a new project to bring electricity to 1,000 additional households.