"WE PROVED THE FEASIBILITY, SUSTAINABILITY AND AFFORDABILITY OF BRINGING ELECTRICITY TO RURAL HOMES"
Cajamarca, the location to start the Luz en Casa programme in 2009, is the department with the highest rates of poverty and lack of electrification in Peru, which is the country with the highest number of population without access to the electricity service after Haiti.
Within this setting, we started Luz en Casa with the aim of showing that is was feasible, sustainable and affordable -with the appropriate technology and management- to bring a quality basic electricity service to low-income households in dispersed, isolated rural communities.  With this purpose, we implemented an innovative electricity service delivery model, in rural communities around the town of Cajamarca, that was based on the provision of electricity with solar home systems in return of an affordable monthly fee.
We achieve the Luz en Casa objective when exceeding 3,000 systems in operation. We also have introduced some improvements in the model proposed in the beginning, such as the creation of the "Centro Luz en Casa" microfranchises. They are owned by users, specifically trained to be in charge of installing and repairing the systems, as well as selling and repairing compatible electric devices. All this results in significant impacts on the programme beneficiaries' quality of life.
Impact summary (2022E)
11,417,200 h/year

available lighting

2,535,570 h/year

for additional activities at home

215,387 h/year

for doing additional homework

656,880 soles/year

savings in energy expenditure (142,610 €/year)

1.65 t/year battery

non-controlled disposal avoided

2,017.80 t/year CO2

emissions avoided
3,910
HOUSEHOLDS PROVIDED WITH ELECTRICITY

Watch video
MILESTONES IN THE DEVELOPMENT OF LUZ EN CASA
2009: 

Initial investment from ACCIONA to start up the initiative.

2010: 

Participation in the conversations for a favourable electricity regulatory framework: official tariff for rural electrification with solar home systems, which was included in the cross subsidy systems.

2011: 

Obtaining of the first rural electrical concessions, and the condition of provider of electricity service, first in Peru with solar home systems exclusively.

2013: 

Loan from the Interamerican Development Bank that allows a large escalation of the programme. Achievement of the break-even point.

2014: 

External studies (case studies and impact measurement) confirm the positive impact of Luz en Casa on the population.

2015: 

Development of the micro franchises "Centro Luz en Casa" to offer supplies and services in the communities.
Latest news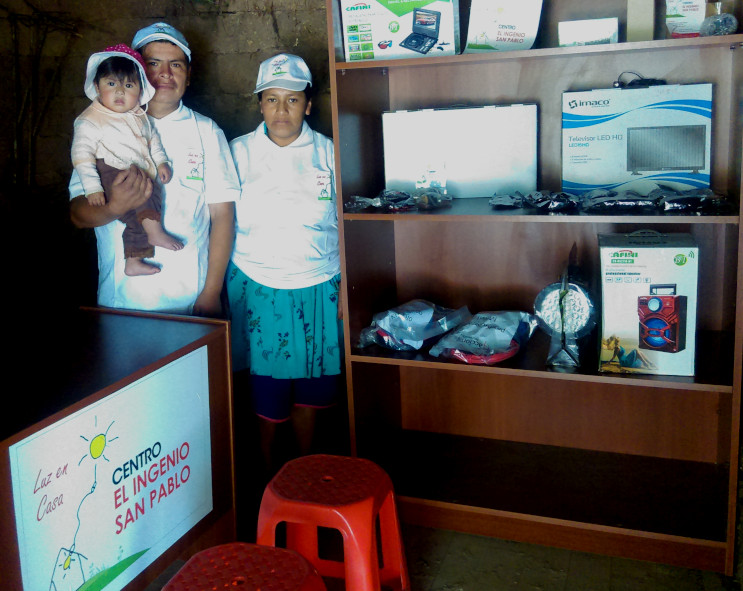 The 'Centros Luz en Casa' get the Amazonia
08/14/2018
Luz en Casa
The micro franchisee network for access to electricity is being extended with the operation of the Centro Luz en Casa-Santa Clotilde, in the Napo basin, which together with the Centro Luz en Casa-El Ingenio, in Cajamarca, are the last incorporations to the network of small local businesses started in Peru and Mexico.